Located on Kokusai street in the heart of Okinawa,
Hotel Palm Royal NAHA is here to meet all of your business and pleasure needs.
Rooms

| | |
| --- | --- |
| Size | 46.79m² |
| Bed width | 180cm × 200cm |
| Availability | 1 |
| | |
| --- | --- |
| Size | 28.42m² |
| Bed width | 110cm × 200cm |
| Availability | 20 |

| | |
| --- | --- |
| Size | 24.84m² |
| Bed width | 130cm × 200cm |
| Availability | 10 |

| | |
| --- | --- |
| Size | 16.23m² |
| Bed width | 130cm × 200cm |
| Availability | 11 |

| | |
| --- | --- |
| Size | 16.23m² |
| Bed width | 130cm × 200cm |
| Availability | 11 |

| | |
| --- | --- |
| Size | 14.21m² |
| Bed width | 130cm × 200cm |
| Availability | 100 |
Facilities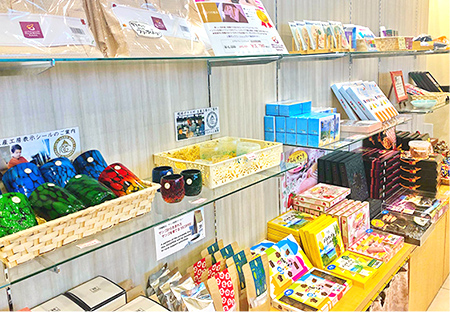 Gallery Shop
In our Gallery Shop, we offer a large variety of goods and souvenirs made locally in Okinawa. We also have an art exhibition highlighting General Perry's landings in Japan.
| | |
| --- | --- |
| Hours of Operation | 7:00~21:00 |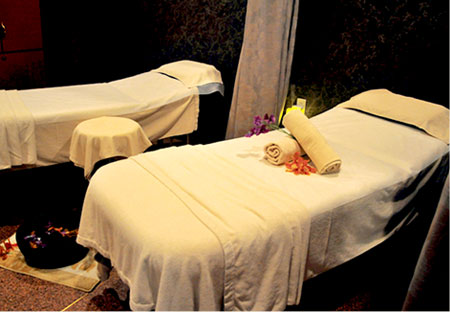 Body Care Salon αβ
Located just beside the hotel lobby, our body care salon offers just the getaway you've been looking for. You can either relax in one of our massage rooms or we can bring the massage to your room.
| | |
| --- | --- |
| Hours of Operation | Closing 24:00 (Final reservation 23:00) |
Restaurant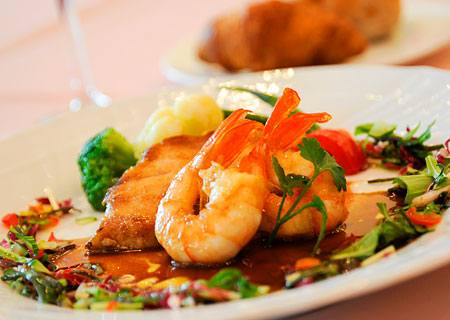 We offer only the freshest seafood,
vegetables, and steaks in Okinawa.
Our Italian menu is fused with traditional Okinawan and Western menus to create a taste like no other in an atmosphere worth visiting again and again.
Breakfast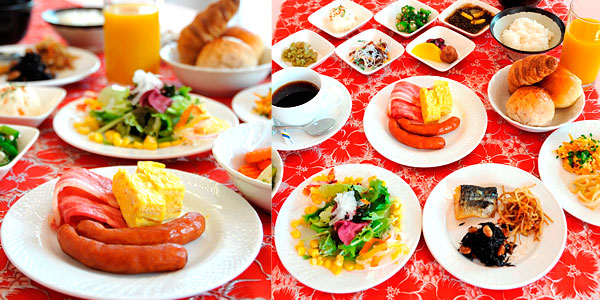 Hours of Operation
7:00 ~ 10:00 a.m.
Price
Adult:1,188 yen
Under 12:864 yen
Under 6:540 yen
Infants:Free

Breakfast tickets are available for purchase at the front desk of the lobby.
Place
1F
Lunch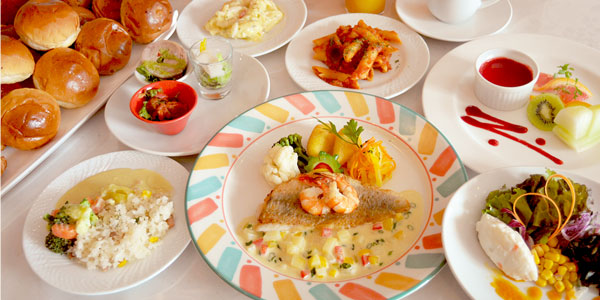 Hours of Operation
11:30~15:00(L.O 14:30)
Price
Adult:1,500 yen
Under 12:1,000 yen
Under 6:500 yen
Infants:Free
Place
1F
The First LGBT-Friendly Hotel in Kyushu and Okinawa Areas

Palm Royal thinks it is necessary to develop a more LGBT-friendly society. We are also going to do our best to support the spread of an LGBT tourism. Palm Royal Hotel, with the "Rainbow Declaration" in 2013, handed out the promotional paper fans designed by the LGBT people in 100 gay bars in Shinjuku District of Tokyo and in some events like Ageha
Also, all of the staff members are periodically participating in workshops to obtain knowledge on LGBT. They will offer you hospitality with thoughtful services.

Interview
Please tell me what motivated you to start operating as an LGBT-friendly hotel. We collaborated for the first time in "Pinkdot Okinawa", the event aiming for a development of a more LGBT-friendly society held in 2013, which motivated us to come out as an LGBT-friendly hotel. The event made us feel that there were still insufficient supports for the LGBT people in Japan and we started the activities of taking the initiative to become LGBT-friendly, which would hopefully get the whole tourism industry to tackle the challenge.

What are the reactions of staff members?
What kind of services are you going to offer to the LGBT people as a hotel? In recent years, the same-sex partnership system has been expanded in the communities throughout Japan. In the past, we have been offering a plan of upgrading the room for opposite-sex couples on their honeymoon to the presidential suite, but we are now offering the plan to same-sex couples, too. We have also set up gender-free restrooms to develop gender-free environments. The staff members are also highly appreciated for their adequate responses to the LGBT people.

Achievements
Collaboration in Pinkdot Okinawa, Accession to International Gay & Lesbian Travel Association (IGLTA) Won the gold prize of the "PRIDE index", the 2016 evaluation index of the private organization, "Work With Pride".
Location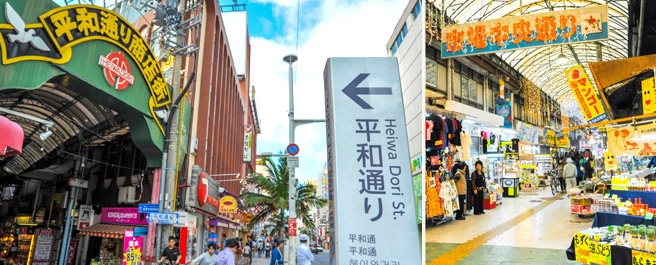 The best location for leisure and business
Located only a few paces from Kokusai street, Hotel Palm Royal Naha is in the heart of the tourism and shopping districts. From world famous covered markets to the beautiful pottery district, you will never run short of things to do when staying at our hotel. With plenty of parking at and around our hotel, and the business district of Naha just down the street, you'll have no problem conducting your business from Hotel Palm Royal NAHA.
The Transit Mile
Every Sunday from noon to 6 p.m., Kokusai street closes to traffic and is open completely to the public. Not only is this a prime time for shopping, but you are also able to see many different street performers and participate in seasonal activities.
For guests who are driving during this closing, access to the hotel is still possible by the way of Grand Orion street behind the hotel. Please see the map below for details.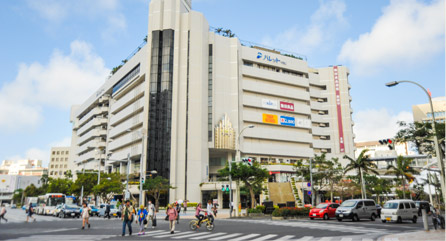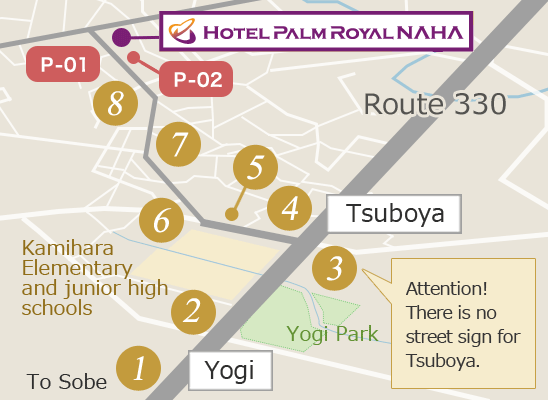 Parking Information

Tenbusu Contract parking
Hotel entrance parking
YOGI intersection

Kamihara elementary and junior high school on the left hand

Turn Left at Tsuboya intersection(Attention! There is no street sign for Tsuboya.)

After Tsuboya intersection

Super Market on the right hand

Turn right

Go straight to the hotel

You'll find Hotel Palm Royal NAHA on your right just before Kokusai street.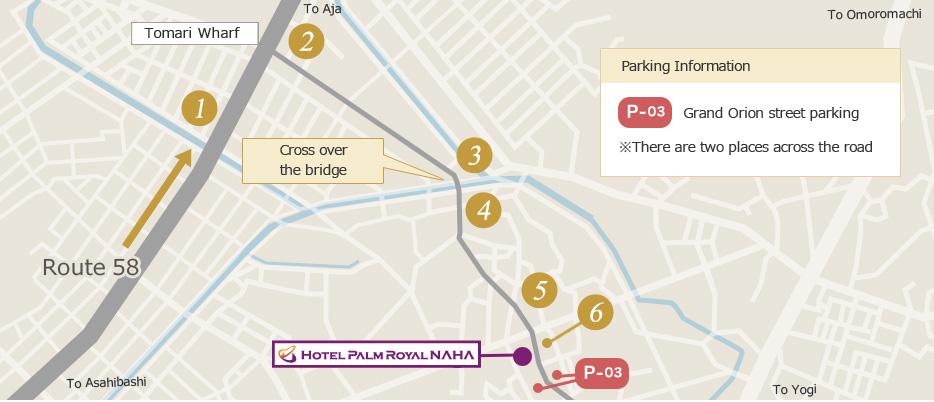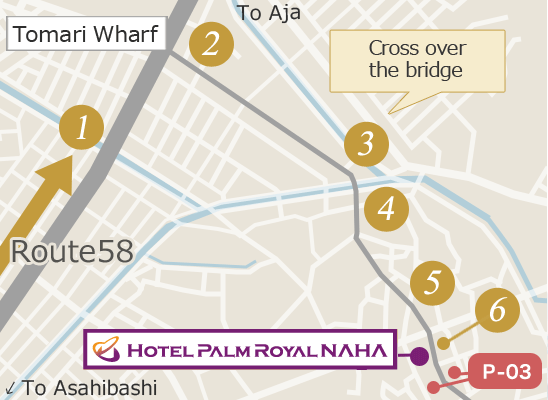 Parking Information

Grand Orion street parking
*There are two places across the road.
Start

Turn right at "Tomari Wharf"

Cross over the bridge

Pass the "Family Mart"

Before the Kokusai street

Grand Orion street and parking